El Cajon Upgrade And Replacement Services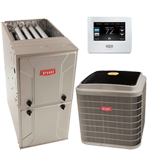 Upgrading and replacing your HVAC system can increase the value of your home. Upgrading your HVAC system can also help you save money on utility bills. A new system will also improve the comfort of your workplace. You can use a programmable thermostat to set the temperature and turn it off when the building is not in use. A new system can also offer dehumidification capabilities to reduce humidity levels in the air. Investing in an upgrade will help your business operate at optimal efficiency and will benefit your bottom line.
Contact JPM Heating & Air, We provide Installation, Repair & Maintenance in El Cajon, CA and the surrounding areas.